About Rio Con brio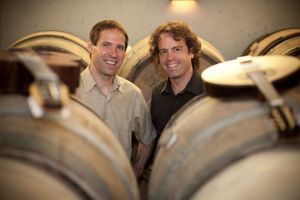 Rio Con Brio began in 2006 as a vehicle for virtuoso mandolinist Tim Connell to indulge his burgeoning obsession with the Brazilian national music "choro".  Joined by fellow gypsy jazz string player Mike Burdette, the two soon accumulated a large repertoire of these quirky instrumental tunes from early 20th Century Brazil - predecessor of samba, bossa nova and MPB - complex yet accessible, exotic yet familiar - and all addictively danceable.
By 2008, the duo found themselves performing all over the Northwest and, by 2010, across North America.  Rio Con Brio has been a staple of Brazilian music and mandolin events and, due to their stellar technique and Connell's adventurous improvisation, have also been featured in traditionally classical concert series and jazz festivals.  Rio Con Brio has recorded three acclaimed albums of choro music and have performed with top Brazilian musicians, including Trio Brasilerio, Choro das Tres and Almir Cortes.

Rio Con Brio is available for tours anywhere in the world, and welcomes private bookings in the Portland, Seattle and San Francisco Bay areas.  The duo also perform in their dance quartet, Stumptown Swing.


Mike Burdette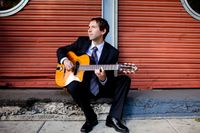 Mike Burdette has been performing Brazilian choro and gypsy jazz guitar for the past decade with many of Portland's best, including Tim Connell, Jason Okamoto, David Stassens, and Joseph Appel. His pursuit of excellence in these styles has led him to study with many of today's leading players, including Mike Marshall and Choro Famoso, Dudu Maia, Douglas Lora, and Don Stiernberg. He also builds and repairs instruments for many of Portland's finest players at Portland Fretworks, and pickers throughout the Northwest enjoy playing on frets he has installed. He lives in rural Newberg, Oregon, with his beautiful wife, Katherine, his chickens, his two cats that do not get along, and his honeybees.


Tim Connell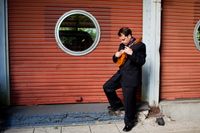 A graduate of the New England Conservatory of Music and a virtuoso mandolinist with over twenty years professional performing experience, Tim Connell has created a sophisticated and original global mandolin style.  Regarded as one of the top North American interpreters of Brazilian choro, Tim has also developed his own unique voice for the instrument, described in a recent Mandolin Magazine cover story as "fiery and energetic, soulful and evocative."   
Tim regularly tours Europe and North America in the international mandolin supergroup The Ger Mandolin Orchestra. He has been a featured guest artist at national conventions of the Classical Mandolin Society of America; he has been on staff at the prestigious Mandolin Symposium for several years and performs and teaches all over the country. 
Tim has performed alongside top Brazilian musicians including Dudu Maia, Choro das Tres, Alessandro Penezzi, Eduardo Neves and Almir Cortes. He collaborates with jazz clarinet superstar Harvey Wainapel and the Berkeley Choro Ensemble and performed in the premeire of Wainapel's new piece at the Berkeley Festival of Choro in May 2015.  Tim has performed with a roster of the greatest living American mandolinists, including David Grisman, Mike Marshall, Don Stiernberg, Rich Del Grosso, Chris Acquvella and many others.  
Tim is a restless and prolific bandleader and arranger, sideman and studio musician, currently touring with his Brazilian choro duo Rio Con Brio, 1930's-era swing quartet Stumptown Swing, world mandolin duo Mando Planet and guitar wizard Eric Skye. In addition, Tim is an integral member of Americana songsters The Old Yellers, currently riding high on their new release "Ten from Town". In his solo act, Tim shares his career-long exploration of the world's many musical styles as realized on the mandolin and voice.